Friday was the big day for the now Duke and Duchess of Cambridge. Approximately 600,000 people lined the streets of London to watch the Wedding. But if you're like me you would have watched it on the telly, in the comfort of your own sofa.
Guest's started arriving at around 8:00 in the morning. Yes you heard me right 8:00 in the morning - 3 HOURS before the ceremony began. I can assure you that they weren't mad, seats were first come first serve, you know what they say - "early bird catches the worm", and well... there were 1,900 birds. However there were some reserved seats for very close friends and family.
Among guests were the expected - the important people: foreign royals, native royals, the prime minister and members of the upper class; and of course there were lots of friends of family were also there such as Kate's secondary school head teacher and Princess Diana's family. In fact, Diana was a hot topic throughout the day on all the channels that were broadcasting the wedding. Apart from that celebrities like the Beckhams, Elton John and Rowan Atkinson (Mr.Bean) all attended the wedding. I wasn't too sure about Victoria's outfit choice though; maybe for a funeral but not for a wedding...
After everyone was settled in and in their seats, the Royal family started to arrive.... in minibuses! It just shows that even the Royals are moving with the times.
Although the more prestigious royals like the Queen arrived in refurbished classic Bentleys.
And then came the men of the moment, Prince William and Prince Harry. Both of looked quite dapper in their military uniforms, which seems to be a tradition at most royal occasions. Although sadly, Wills seems to be slowly turning into an egghead. When Kate was walking down the aisle, Harry,always being the joker, to a cheeky look round round and told his brother "wait til' you see her".
And she was certainly worth the wait! She looked absolutely stunning in a gown designed by Sarah Burton, from the fashion house of the late Alexander McQueen. The queen lent her her Halo Cartier tiara as her "something borrowed". What a gift! She arrived to the wedding from the Goring hotel with her father, Michael, in the Queen's high-top Rolls Royce Phantom. We didn't get a full view of the dress until she reached the Abbey; when she did reach the Abbey, Twitter and Facebook went crazy with comments like "she looks stunning", "I love her dress" and "Kate looks beautiful!" (I was one of these people!)
Pippa, Kate's younger sister also looked absolutely stunning in her Maid of Honour's dress. According to the official website "

Miss Philippa Middleton's dress was designed and created by Sarah Burton at Alexander McQueen. It is of a heavy, ivory satin-based crepe, with a cowl front and with the same button detail and lace trims as the Bride's dress.

"
The bridesmaids were
Lady Louise Windsor, the queen's youngest granddaughter, Eliza Lopes, the Duchess of Cornwall's granddaughter, the Hon.Margarita Armstrong-Jones, the daughter of Viscount Linley, and Grace Van Cutsem, the daughter of Prince William's close friend, Hugh Van Cutsem. Their dresses were made and designed by Nicki Macfarlane to echo Kate's dress.
The pageboys were
William Lowther-Pinkerton, whose father is William's private secretary, and Tom Pettifer, whose mother was William and Harry's nanny. Their outfits were designed in the Royal Household, but were made by Kashket and Partners, who also fitted William for his wedding day.
The service was actually quite short. However, it was still very classy and simple, and not-at-all snobish. The inside of the Abbey wasn't decorated, but there were was a red carpet and several maple trees which ran down the aisle. You might think that this is a but strange (at least I did!) but then I found out that they are going to be planted inside the palace grounds. Unlike flowers at a normal wedding which are just thrown away.
Then there was the procession to Buckingham Palace. The couple climbed into their wedding carraige and faced the British public for the first time as the Duke and Duchess of Cambridge.
After they'd made their way down The Mall and arrived at Buckingham Palace, it was time for the famous kiss on the balcony. For this, the crowds were allowed to fill up the Mall to get a good view. Luckily for us, we were treated by not just one kiss, but two! (Look at the bridesmaid in front of Kate)
N'aww :) . Now the crowds and viewers at home were just waiting for them to come out of the palace and drive round the corner to Clarence House. What they didn't know is that William would be driving Kate himself, in his dad's baby blue open-top Aston Martin. What's more, he's a learner :O!
Approximately 2 billion people tuned in to watch the royal wedding - now that's what I call loyalty! After the whole celebration, more than 5,000 street parties were held around the UK. I didn't go to one, but I know people who did. The British certainly do know how to throw a good public event. Yes I know that I'm not ethnically British but I was still proud to be living here on Friday.
Kate changed her outfit for the evening reception. Her dress was designed by Sarah Burton, who once again made the Duchess look effortlessly beautiful. Pippa also changed outfits into a dress that made girls everywhere green with envy ;), which was designed by British designer Alice Temperly.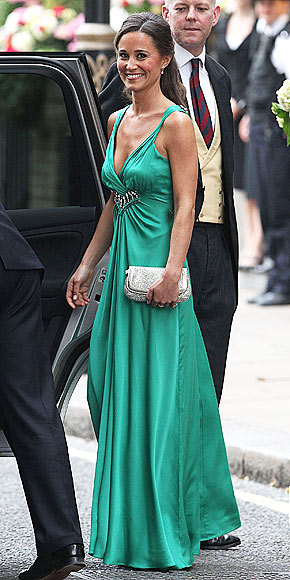 OK, the tan's a bit of a buzz kill but she can be forgiven. 300 of their closest family and friends were invited to a sit-down meal and disco. Look at the cakes!
Harry was said to organise an after party to end all after parties. He also organised a 6.am bacon sarnies for the "survivors". Nothing beats a good bacon sarnie....
The whole world seems to want him and Pippa to get together because they looked undeniably cute together throughout the wedding. But I don't think they will, not if on and off girlfriend Chelsy Davy, who was invited to the wedding, has anything to do with it. also aren't they technically related now? Ah well, we'll have to see what the future holds for PipMid and the ginger prince.
Best dressed of the day, apart from the bride, was definitely Pippa Middleton. David Beckham would have to my best dressed male though due to his very fashion forward outfit. My worst dressed would have to be Princess Beatrice. Yes I know that she's 5th in line to the throne and everything, but she doen't have to wear a Lady Gaga style hat to gain some attention. The dress itself isn't that bad, it's just that the hat makes her look like a beige tellytubby.
That's it from me on the Royal Wedding, now we can all return to reality.
TTYLx